In February 2021, The Australian Association of National Advertisers (AANA) updated their Distinguishable Advertising requirements under Section 2.7 of the Code of Ethics (the Code), which now simply states: "Advertising shall be clearly distinguishable as such".
Since then, numerous complaints have been made against mega, macro, and micro influencers, triggered by the lack of commercial transparency influencers are showing on posts featuring products where the influencer has been paid, received value in kind or incentivised by receiving the product itself for free. With the Instagram influencer market expected to grow 15% in 2021 (according to the State of Influencer Marketing 2021 Report created by HypeAuditor) and as the call for transparency and compliance among influencers becomes more prevalent, there is no doubt there will be increased regulatory pressure placed on those influencers and brands not complying with the Code.
In our Blog Post on Social Influencers, Brands and Agencies, we explored how the Australian Consumer Law (ACL) might apply to a lack of transparency by influencers and brands. Whilst we are yet to see a prosecution by the Australian Competition and Consumer Commission (ACCC) in such circumstances, Ad Standards has now been very active in assessing complaints from consumers concerning influencer transparency.
Since the tightened Code has come into force, there have been almost 25 complaints raised against influencers. As the use of social media influencers as mainstream marketing communications channel increases, there is no doubt these complaints will not be the last and will likely increase.
What do the Ad Standard Community Panel ("Panel") look at when assessing complaints?
When the Panel assess a complaint, they consider:
Whether the post constitutes 'advertising or marketing communication', and if so
Is the post clearly distinguishable as advertising or marking content?
Advertising or marketing communications include any materials which have been posted or shared on behalf of a brand. The brand must have a reasonable degree of control over what the influencer is posting. The post must also draw the attention to the product, service, organisation, or persons supporting it.
The Panel have made it clear that the inclusion of #ad, Advert, Advertising, Branded Content, Paid Partnership, Paid Promotion or similar, are sufficient to highlight the commercial relationship between the influencer and business. Interestingly, the inclusion of #sp, Spon, Gifted, Affiliate, Collab, thanks to… or merely mentioning the brand name, may not be sufficient to clearly distinguish the post as advertising.
What does an offending post look like?
The first complaint under the tightened Code, in early 2021, was against 'Bachelor' winner Anna Heinrich (@annaheinrich1). The Panel determined the post did not correctly reference the sponsorship and was therefore not clearly distinguishable as an advertisement. The fact that the post appeared to be organic content, heightened confusion as to whether it was an ad, as there were no clear markers that indicated there was a commercial a relationship between Heinrich and the brand.  While Section 2.7 of the Code is not strict when it comes to HOW an influencer represents an advertisement, it is clear that it must be clear, obvious, and upfront to the audience. In response to the determination, the post was updated to resolve the breach.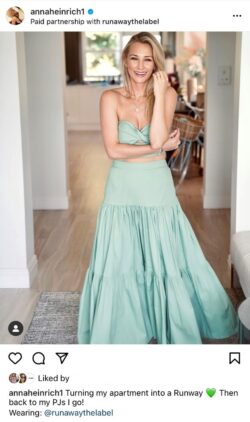 Later posts by Heinrich took a more transparent approach to disclosing brand associations. However, this post still received complaints for failing to clearly identify it was in partnership with Crown Towers. The Panel dismissed the complaint – finding that the use of #sponsored in conjunction with clear references to Crown and the context in the caption made the post clearly distinguishable as an advertisement.
What you need to know: there are no black and white rules on how an influencer must disclose a sponsorship or commercial partnership. This decision made by the Panel emphasised the importance of  it being immediately clear to the audience and easy for them to understood that a post is sponsored or in partnership with an brand (like using #ad, not #sp or #spon).
Next in line was beauty influencer Rozalia Russian (@rozalia_russian) in partnership with Tom Ford. The complaint was in regard to posts over a period of time that lacked acknowledgement of advertising status. The Panel looked at one post in particular and found the post had breached the Code for failing to identify an advertising relationship with Tom Ford. The company argued that the product was a Christmas gift to Russian, with no expectation that she feature it on social media. The Panel determined it was nonetheless contrary to the Code as 'distinguishable advertising' includes 'free products or services' from a brand. Despite Tom Ford having no 'reasonable control' over the post as required by the Code, it was deemed sufficient that the company knew Russian was an influencer, and that gifting her the product would likely result in some manner of social media feature. Russian has not amended her post in light of the finding.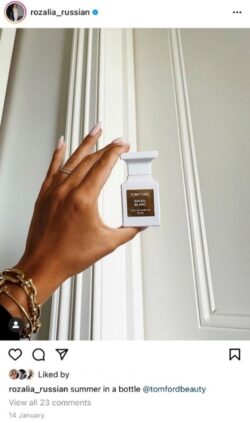 What you need to know: Gifting is likely to be viewed as the brand exercising a degree of control, by intentionally sending an influencer a 'gift' in anticipation the influencer may post favourably about the product or service.  Guidance to section 2.7 of the Code indicates that simply labelling a post 'gifted' alone is not sufficient and influencers should use hashtags such as #BrandedContent and tag the brand.
Australian author and skincare mogul, Zoe Foster Blake (@zotheysay), received a complaint for posting a video of the Tourism Australia Advertisement. Considering Blake was a well-known ambassador for Tourism Australia and the post was also accompanied by a lengthy caption which included "making this", "shoot", "TV ad", and was the same commercial shown on televisions nationwide, it is no surprise the complaint was dismissed. The Panel noted the post did not include hashtags such as #ad or #sponsored, however the caption for the post clearly identified Blake's involvement in filming and her reference to it as being "incredible TV ad."
Fitness instagrammer, Hannah Emerson (@hannahemmerson) was also found to have breached the Code for failing to disclose that products from The Wellness Club were gifted. Emerson's post has been updated to resolve the breach by including #ad.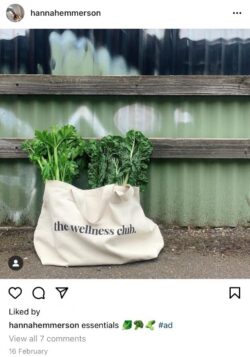 Jade Tuncdoruk (@jadetunchy) was also found to have breached the Code owing to lacking transparency of a paid partnership with Glassons. Like Emerson, Tuncdoruk has updated the post to resolve the breach.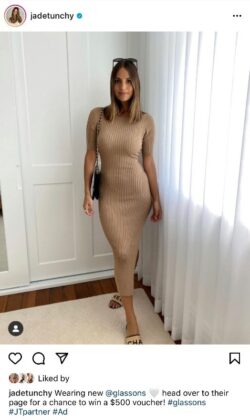 To emphasise the diversity of approaches that can be taken by the Ad Standards, posts by wellness influencer Sarah Stevenson of Sarah's Day (@sarahs_day) were brought before the panel for non-disclosure of any commercial arrangement between the influencer and La'Bang Body. The Panel held that consumers would know La'Bang Body is Stevenson's own product and it is reasonable for her to advertise and promote is as such. The use of "our" and "my" made it clear that the product was made by her and that she directly profited from sales.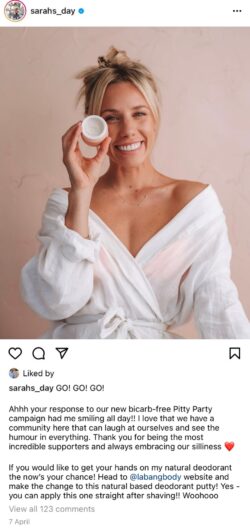 What you need to know: Where a brand is advertising its own product on its own channel, there is obviously no need to label posts advertisements. The waters are muddied when an influencer is involved in the product development process. For completeness, it is best to ensure that any relationship between the product and the poster is unambiguously highlighted to any audience member coming across the post.
Not sure whether you are complying? Here's what influencers and brands should keep in mind.
Compliance with the Code is not mandatory. However, best practice is undoubtedly for influencers and brands to ensure they are transparent with their audience and clearly identify whether or not a post is an advertisement. This can be done in many ways, including hashtags, in post statements, and by surrounding circumstances and contexts (e.g. of a known brand ambassador). Furthermore, Instagram has made this significantly easier for influencers, with the option to set the locations as Paid Partnership with… We highly recommend utilising this function, tagging the brand and, as an alternative using #ad or #advertising when posting any paid or gifted products or services.
In additional to the Code, AiMCO, an industry association, is committed to ensuring marketing on social media platforms continues to build marketer trust and confidence through best practice, transparency and industry education through their Code of Practice. The Code of Practice provides a helpful guide for influencers and brands on producing content, ensuring posts are transparent, legally compliant and additional best practices.
Key things to consider:
Has the influencer been paid or is it a gift?
Has the influencer tagged the brand?
Has #ad, Advert, Advertising, Branded Content, Paid Partnership, Paid Promotion, or similar, been included in the caption?
Would a consumer know the post is an advertisement?
If you have any questions about preventing or defending complaints against influencers or brands, feel free to get in touch with the VML team.